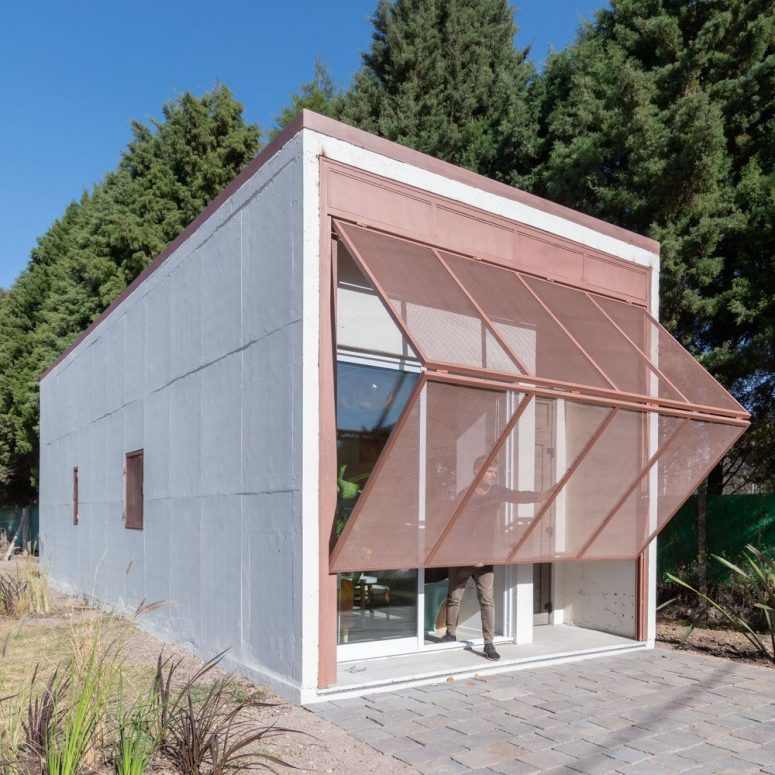 Prefab houses and cabins are perhaps on top of their popularity as everyone is craving for comfortable living wherever they want, for being mobile and still feel very cozy anywhere. Meet Hüga, a new and innovative type of prefab house developed by studio Grandio. It's a compact and small house inspired by minimalism and the philosophy based on the idea that happiness doesn't have to be linked to the material things.
The house has a living surface of 45 square meters and it can be reduced or expanded upon in order to adapt to the needs of its inhabitants. The structural shell of the house is made from a lightweight polymer which allows it to be transported on site via truck. Once there, a reinforced concrete layer is added, bringing the house to a total weight of around 55 Tn. Thanks to this process the house can be installed in only one day. It doesn't require any additional work to be done on the site such as installing a foundation for example and it can be brought to virtually any location.
Inside, it's a 3.90 x 3.90 x 11 m volume organized into several areas. There's a mezzanine floor where the bedroom and relaxation area are and the kitchen, living and dining area and the bathroom are on the ground floor. Large windows fill the interior with natural sunlight and allow the small space to appear bright and airy. The house comes fully equipped, ready to become a home.