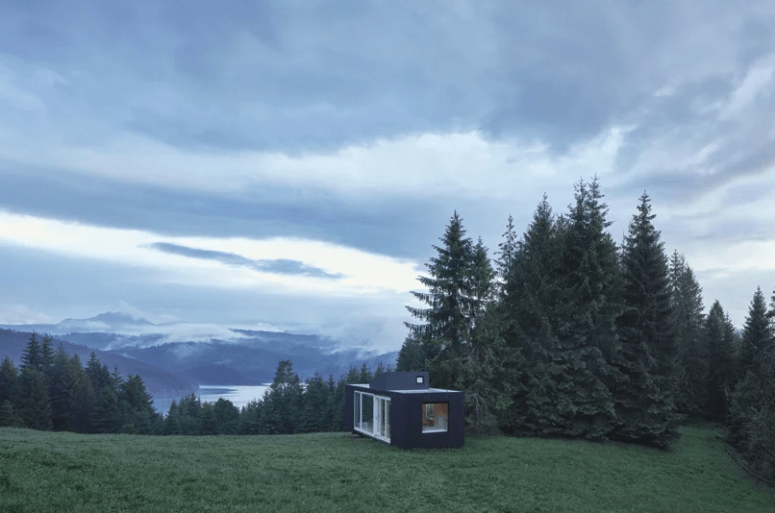 Nowadays we live in a world full of stress, duties and various tuff like that and the only way to feel good is to escape from them all from time to time. To do that, Belgium based studio ARK created a woodland cabin, just 40m² but amazing for escaping!
This prefab cabin in the woods is called Ark-Shelter and was created to detox one's mind. The dwelling is surrounded by openings on each of its five sides, it is entire exposed to its natural surroundings. Each opening brings in a new view and consequently a new ambience.
The transformability of the Ark-Shelter by ARK offers the dweller multiple states of enclosure. When the side wall and front window are fully opened, one has the sense of sitting outside. The milk-glass window in the bathroom lets in soft natural sunlight while maintaining privacy. A module set into the roof acts as a large skylight, letting natural light in from above during the day while at night allowing the dweller to sleep under a sky full of stars.
The Ark-shelter is designed to appear unobtrusive within its surroundings while working completely off-grid with its solar panels, batteries and a rain water collector. Automatic heating, cooling and shading systems can be pre-programmed. The double-bed lifts automatically into a ceiling panel to reveal a hidden jacuzzi, completely transforming the space. A central black box divides the ark-shelter into five different areas. Through sliding doors and walls, the space can be transformed and divided in many ways. The ark-shelter can be ordered to be delivered and can be placed everywhere you can imagine — wherever you are allowed to.