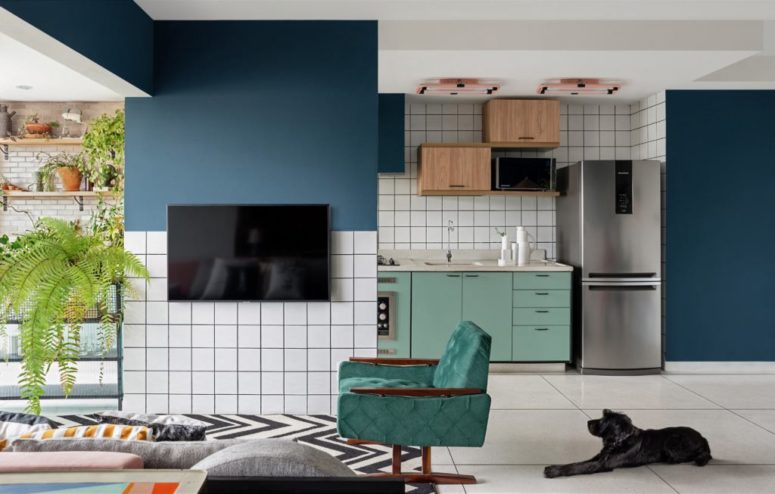 To design the FM House in São Paulo, Brazil, Mombá Arquitetura referenced Vaporwave, a subgenre that gives nod to the 80s and 90s. While electronic music was its main inspiration, Vaporwave was also known for its surreal art and consumer culture, all of which lead the selections made for finishes, colors, and shapes.
The 72-square-meter interior was updated with contemporary furnishings and a vibrant palette to coexist with original features, like the white tile on the walls and the granite floor. The dining room was furnished with finds from antique stores and travel, alongside contemporary design pieces and a catchy gallery wall. White tile walls are an unusual solution for a dining nook. The kitchen is done with plain green cabinets, a white stone countertop and two different backsplashes – of blush and white tiles.
The living room shows off a combo of teal and white that create a striking contrast to begin with. The Tetris Sofa makes a bold statement in the center of the open room helping to divide the space up between sitting area and office. A glazed wall features cool views, and lots of potted greenery creates a feeling of being outside. The bedroom features cozy soft pink walls and a light blue pillow headboard, paired with bold accent pillows and geometric bedding.