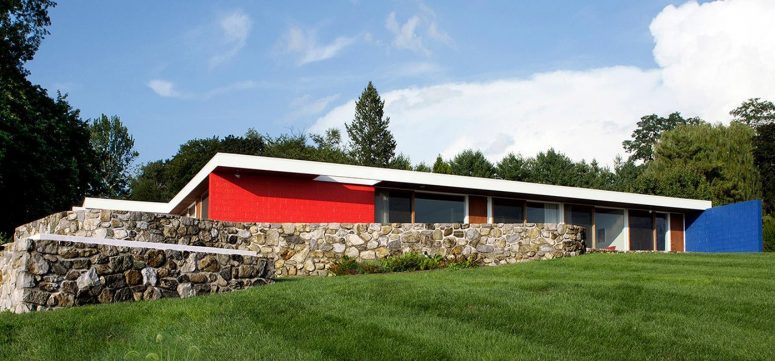 Designed in 1953 by modernist architect Marcel Breuer, the Neumann Residence in upstate New York is a unique and rare historical treasure, which has been meticulously restored to chic modernist glamour.
The residence is set on a commanding 3.4-acre hilltop, boasting panoramic views over the Hudson river. Built for artist Vera Neumann and revived by its third owners and educated Breuer devotees, every inch of this masterpiece breathes modernism. The house features 4,064 square feet (377.56 m²), six bedrooms and four bathrooms. It was considered a masterpiece by his creator, is a one-level light-filled residence where white, red and blue concrete walls fill the surrounding landscape while it makes the most of its striking location thanks to its floor-to-ceiling windows that connect the interior with the exterior.
The current owners, who bought the house in 2014, renovated it, keeping Breuer's original design and taking it into the 21st century. Today, it is composed of modern conveniences and appliances but its modernist air is still intact. Both the main house and the guesthouse have access to an indoor pool that was added in the early 1970s, when Breuer returned following Neumann's request. other amenities include an outdoor pool, a waterfall feature, and stone walls and patios.