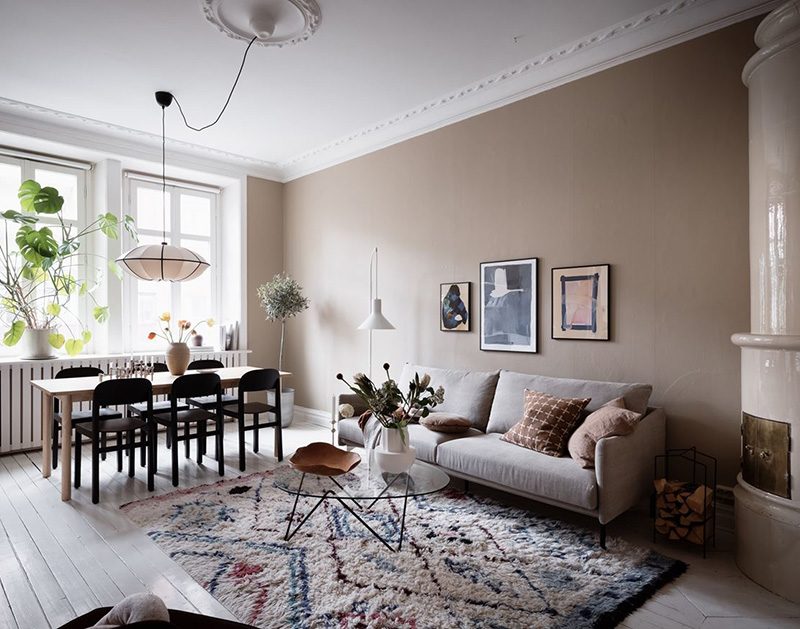 Despite all the prejudices, beige in interior design has been and will be one of the most popular choices among designers and homeowners. And if you also choose a right shade, mix it with stylish Scandinavian furniture – just like in this Goteborg apartment – the result will be worthy of interior magazine covers.
The main layout comprises a living and a dining space, and one of the most gorgeous features is a traditional Scandinavian stove here. The furniture is comfortable, mid-century modern and there are many potted plants that refresh the space. There's a lovely gallery wall and a wall-mounted shelving unit for some storage and to keep the look of the room airy.
The kitchen continues with the color scheme and shows off a mauve backsplash. Vintage and modern cabinetry used together make the space more eye-catchy, and a large gallery wall accents the space. Here you may also see a small breakfast space with a table and a couple of chairs.
The bedroom is Scandinavian classics: serene, airy and beautiful. There's a grey bed and a matching window frame and radiator cover. Potted blooms and greenery refresh the space, and printed bedding adds freshness to the room. A large vintage closet provides enough storage space for everything necessary.
The bathroom is clad with textural small scale tiles in neutral shades. There's a tub and a sink and some colored textiles. Take a look at the pics of this cool dwelling below!